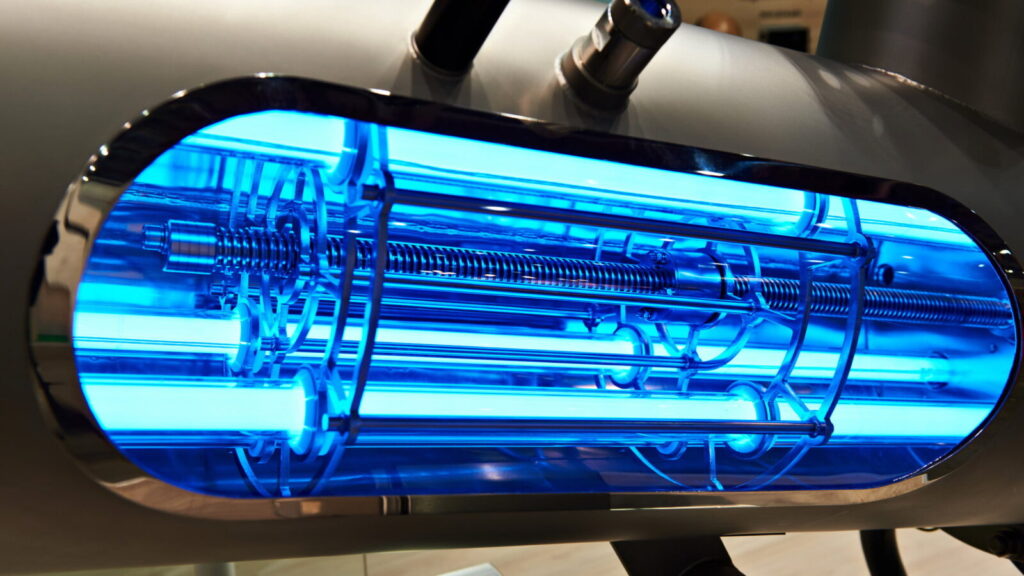 With approximately 50,000 new coronavirus cases being reported each day, COVID-19 continues to wreak havoc on businesses and institutions across the United States. With no clear timeline on a vaccine, many organizations are scrambling to figure out implementing safety protocols to protect their employees and their customers.
While many places are employing methods like social distancing, frequent hand-washing, usage of hand sanitizer, gloves, face masks and shields — there are more drastic measures businesses can take to sanitize their space.
A new study from Columbia University Irving Medical Center has found that 99.9% of seasonal coronaviruses present in airborne droplets were killed when exposed to a particular wavelength of ultraviolet light that is safe to use around humans.
UVC radiation is a known disinfectant for air, water, and nonporous surfaces. UVC radiation has effectively been used for decades to reduce the spread of bacteria, such as tuberculosis. For this reason, UVC lamps are often called "germicidal" lamps. UVC radiation is commonly used inside air ducts to disinfect the air.
Public Transportation
With millions of people traveling via public transportation each day, subways and buses are particularly vulnerable to spreading communicable diseases. Health experts in China are blasting buses with beams of ultraviolet light in a bid to contain the coronavirus outbreak. With viruses spreading via droplets landing on shared surfaces, public transport hubs and vehicles are seen as infection hotbeds. Guidance issued by the National Health Commission says the virus is sensitive to ultraviolet light and heat. Shanghai public transportation authority is using UVC lamps pumping out beams of radiation to eradicate any trace of COVID-19.
Banks/Paper Money
A study from the National Institute of Allergy and Infectious Diseases found that COVID-19 can live on surfaces for up to three days after contact. Since then, banks and other institutions have looked for ways to help sanitize money that sometimes passes between a dozen people in a single day.
In China, where Central Banking understands there has been an increased demand for disinfected cash, the People's Bank of China has implemented a disinfectant regime which exposes banknotes to UV light and high temperatures in order to sterilize banknotes.
Hospitals
With the turnover in staff and patients, hospitals are grappling with germs and bacteria that linger in patient rooms and cause new infections. As a result, several UVC machines are now in use at many hospitals and medical facilities around the world.
The machine emits UVC light into the empty room for about 30 minutes. The light bounces and reflects into hard-to-reach areas such as open drawers, and between cabinets and fixtures. The light waves kill bacteria by disrupting their DNA.
Hospitals involved in a recent study were able to disinfect 90 percent of the targeted rooms following the exact trial protocol.
UV Lamps Are FDA Compliant
UVC lamp manufacturers are responsible for compliance with all applicable regulatory requirements, The radiological health regulations include reporting of Accidental Radiation Occurrences, notification to the FDA and customers of radiation safety defects, and designation of a U.S. agent for imported lamps.
Why Partner with Absolute Solutions & Associates?
Absolute Solutions & Associates is proud to be the preferred facility maintenance and facility equipment provider of the Washington, D.C. metropolitan area and beyond. Our knowledgeable team members are dedicated to providing unparalleled customer service, competitive value-added pricing, and a finished product. You will be pleased you chose to partner with Absolute Solutions & Associates. From grounds maintenance services to commercial building operations and maintenance, we have you covered. To speak with one of our team members and learn more about how we can work together to exceed your expectations and satisfy your needs, please contact us today! You can reach us at 202‐630‐9469. Also, check us out on Facebook, Twitter, and LinkedIn.